Universal Payment Services Announcing Top Vacancies In Kuwait  2023
Name of the Company: Universal Payment Services 
Designation: PHP Laravel developer
How to Apply:   Job Opportunities for Universal Payment Services
Email ID: info@upskwt.com
Phone No:+965 22055780
Website: http://www.upskwt.com
Qualification:  Degree In Information technology
Eligibility Criteria: minimum  3 years experience in  programmer
---
Universal Payment Services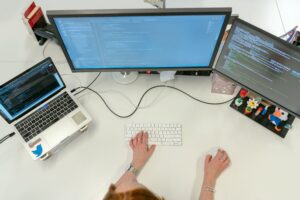 UPS is a shareholding company, based in the State of Kuwait, led by a group of experienced executive management team in different fields and supported by a strong board of directors, established in 2006 by a Kuwaiti-Saudi partnership with a capital of USD 9 million.
---
Job Description(Universal Payment Services)

1. PHP Laravel developer
Job Description
Application Development: Design, code and modify PHP Laravel web applications to meet client requirements and project specifications.
Database Administration: Developing and maintaining database structures, optimizing queries, and ensuring data integrity within Laravel applications.
Front-End Development: Collaborate with front-end developers and designers to integrate user interfaces into Laravel applications.
API Development: Build and consume RESTful APIs, integrate third party services, and manage data exchange between disparate systems.
Testing and debugging: Performing unit tests, identifying and fixing bugs and performance bottlenecks, and ensuring the quality of the developed code.
skills
PHP and Laravel: Strong proficiency in PHP programming and hands-on experience with the Laravel framework, including Laravel MVC architecture, Eloquent ORM, and Blade Template engine.
Front-end technologies: Proficiency in HTML, CSS, JavaScript, and familiarity with front-end frameworks such as Vue.js or React.js.
Database Administration: Experience with relational databases such as MySQL or PostgreSQL, including database design, optimization, and query building.
API Development: Knowledge of building and consuming RESTful APIs, authentication methods (OAuth and JWT), and integrating 3rd party services.
Testing and Debugging: Familiarity with unit testing (PHPUnit) frameworks, debugging tools, and techniques for identifying and resolving code problems.
---
How to Apply(Universal Payment Services)
To apply for this position, please follow the instructions below:
Resume/CV Submission:
– Prepare an updated copy of your resume or curriculum vitae (CV)
that highlights your relevant experience, skills, and qualifications.
– Ensure that your contact information, including your full name, email
address, and phone number, is included.
– Highlight how your experience and qualifications align with the job
requirements and why you believe you are a suitable candidate.
Additional Documents:

(if required)
"Check below if the post required additional documents"
– If applicable, include any additional supporting documents such as
certifications, licenses, or transcripts that are relevant to the
position.
Application Submission:
Choose one of the following methods to submit your application:
– Email: Send an email to the mentioned email address with the
subject line. Attach your resume, and any additional
documents as separate PDF or Word files.
– Online Application Portal: Visit provided website and navigate to the
Careers or Jobs section. Follow the instructions to create an
account or log in if you already have one. Complete the online
application form and upload your resume, and any additional
documents as specified.
Application Deadline:
– Ensure that your application is submitted before the specified
deadline. Late applications may not be considered.
TO APPLY for this particular job post:
Universal Payment Services
Send CV or Mail to:   Job Opportunities for Universal Payment Services
Contact Number: +965 22055780
Note: Make sure to use the contact number for sending job applications through the mentioned contact medium. Avoiding so may lead to application rejection. 
---
Related Jobs:
---
Disclaimer:
This Website is only for Service purposes. Not Related to any Consulting.
---
Related Keywords
#thendral Entertainment #Jobs Today #Job News #Vacancy #Job Opportunities #Apply Now #Apply Online #Job Openings #Top Companies #Latest Jobs #Explore Jobs #Government Jobs #Govt Jobs #Urgent Hiring #Job offers #Job Portal #career #Overseas Jobs #Abroad jobs #Jobs Abroad #career opportunity #Fresher Jobs #Overseas Recruitment #Job Post #Job Description #employment #Work from Home #Employee search #Job Search #Hiring #Required #Announces #New Job #Jobs for Experienced #Worldwide #Employee Required #Universal Payment Services #PHP Laravel developer
---
Follow Us on: