Our company is currently seeking Marine Captain to operate a 27-foot jet boat : Qatar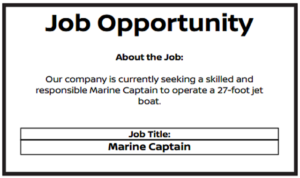 About the Job
Our company is currently seeking a skilled and responsible Marine Captain to operate a 27-foot jet boat.
---
Job Title : Marine Captain
Job Responsibilities:
-Safely navigate and operate the 27-foot jet boat along Qatar's marine coastline. Ensure the safety of passengers and crew on board.
– Conduct routine maintenance and inspections of the boat.
---
Job Requirements:
– Excellent verbal and written communication skills in English.
– Extensive experience and expertise in navigating Qatar's marine coastline.
---
How to Apply:
Please include "Marine Captain Application"