Amazing Medical Lab Technician Required for Abbasiya in Kuwait 2023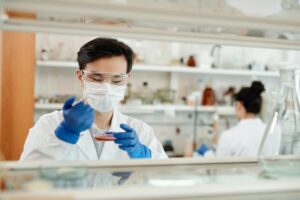 Designation: Medical Lab Technician 
How to Apply: https://lnkd.in/dPmkgZCW
Qualification: A degree or diploma in Medical Laboratory Technology 
Eligibility Criteria: Previous experience working in a medical laboratory setting is preferred but not mandatory
Location: Kuwait
---
Medical Lab Technician
Welcome to an exciting opportunity for a skilled and dedicated Medical Lab Technician in Abbasiya, Kuwait. Our esteemed medical facility is seeking a passionate individual to join our team and contribute to the advancement of healthcare in the region. As a Medical Lab Technician, you will play a crucial role in diagnosing and treating patients, working alongside a team of highly motivated professionals.
---
Job Description(Medical Lab Technician)
Role and Responsibilities: As a Medical Lab Technician, your primary responsibility will be to perform various laboratory tests and analyses to aid in the diagnosis and treatment of patients. Your role will encompass a wide range of duties, including but not limited to:
Sample Collection: Collecting blood, urine, and other samples from patients with precision and ensuring proper labeling and documentation.
Laboratory Testing: Conducting a variety of tests, such as blood tests, tissue analysis, chemical analyses, and microbiological cultures, following established procedures and protocols.
Equipment Maintenance: Regularly calibrating and maintaining laboratory equipment to ensure accurate results and troubleshoot issues when necessary.
Data Entry and Reporting: Accurately recording test results and entering them into the laboratory information system. Preparing reports for physicians and other healthcare professionals to aid in patient diagnosis and treatment planning.
Quality Control: Following strict quality control measures to ensure the reliability and accuracy of test results. Adhering to safety protocols to maintain a safe working environment.
Collaboration: Collaborating with other healthcare professionals, such as doctors, nurses, and medical technologists, to share information and contribute to the overall patient care process.
Qualifications and Requirements: To excel in this role, candidates must possess the following qualifications and skills:
Educational Background: A degree or diploma in Medical Laboratory Technology or a related field from a recognized institution.
Certification: Relevant certifications or licensure as required by Kuwaiti regulations for practicing as a Medical Lab Technician.
Experience: Previous experience working in a medical laboratory setting is preferred but not mandatory.
Attention to Detail: A keen eye for detail and precision in performing laboratory tests and recording data.
Analytical Skills: Strong analytical and problem-solving skills to interpret test results accurately.
Communication: Excellent communication skills, both written and verbal, to interact with patients and healthcare professionals effectively.
Team Player: Ability to work collaboratively in a team-oriented environment.
Benefits: Our medical facility offers competitive compensation packages and a range of benefits, including but not limited to:
Attractive salary commensurate with experience and qualifications.
Accommodation and transportation assistance.
Health insurance coverage.
Professional development opportunities.
---
How to Apply(Medical Lab Technician)
To apply for this position, please follow the instructions below:
Resume/CV Submission:
– Prepare an updated copy of your resume or curriculum vitae (CV)
that highlights your relevant experience, skills, and qualifications.
– Ensure that your contact information, including your full name, email
address, and phone number, is included.
– Highlight how your experience and qualifications align with the job
requirements and why you believe you are a suitable candidate.
Additional Documents:

(if required)
"Check below if the post required additional documents"
– If applicable, include any additional supporting documents such as
certifications, licenses, or transcripts that are relevant to the
position.
Application Submission:
Choose one of the following methods to submit your application:
– Email: Send an email to the mentioned email address with the
subject line. Attach your resume, and any additional
documents as separate PDF or Word files.
– Online Application Portal: Visit provided website and navigate to the
Careers or Jobs section. Follow the instructions to create an
account or log in if you already have one. Complete the online
application form and upload your resume, and any additional
documents as specified.
Application Deadline:
– Ensure that your application is submitted before the specified
deadline. Late applications may not be considered.
TO APPLY for this particular job post:
Medical Lab Technician
Send CV or Mail to: 
Note: Make sure to use the contact number for sending job applications through the mentioned contact medium. Avoiding so may lead to application rejection. 
---
Related Jobs:
---
Disclaimer:
This Website is only for Service purposes. Not Related to any Consulting.
---
Related Keywords
#thendral Entertainment #Jobs Today #Job News #Vacancy #Job Opportunities #Apply Now #Apply Online #Job Openings #Top Companies #Latest Jobs #Explore Jobs #Government Jobs #Govt Jobs #Urgent Hiring #Job offers #Job Portal #career #Overseas Jobs #Abroad jobs #Jobs Abroad #career opportunity #Fresher Jobs #Overseas Recruitment #Job Post #Job Description #employment #Work from Home #Employee search #Job Search #Hiring #Required #Announces #New Job #Jobs for Experienced #Worldwide #Employee Required #Medical Lab Technician
---
Follow Us on: