Marriott International Announcing Top Vacancies In Kuwait 2023
Name of the Company: Marriott International
Designation: Accounts Payable Supervisor
How to Apply: Marriott International Now Hiring Accounts Payable Supervisor Marriott International is now hiring for an Accounts Payable Supervisor!!
Qualification: Degree in Business Administration
Eligibility Criteria: minimum 5 years in related field
---
Marriott International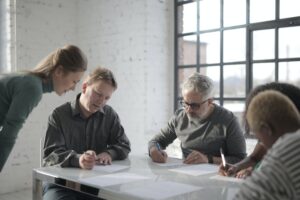 Marriott International has long believed in the power of our associates to shape our future. And now, part of that exciting future could be yours.
---
Job Description(Marriott International)
 Accounts Payable Supervisor
Job Number 23137764 Job Category Finance & Accounting Location Courtyard Kuwait City, Al Shuhada Street, Kuwait City, Kuwait, Kuwait VIEW ON MAP Schedule Full-Time Located Remotely? N Relocation? N Position Type Non-Management POSITION SUMMARY Check figures, postings, and documents for accuracy. Organize, secure, and maintain all files, records, cash and cash equivalents in accordance with policies and procedures. Record, store, access, and/or analyze computerized financial information. Classify, code, and summarize numerical and financial data to compile and keep financial records, using journals, ledgers, and/or computers. Prepare, maintain, audit, and distribute statistical, financial, accounting, auditing, or payroll reports and tables. Complete period-end closing procedures and reports as specified.
Prepare, review, reconcile, and issue bills, invoices, and account statements according to company procedures. Follow-up and resolve past due accounts and vendor invoices until payment in full is received or resolved. Coordinate tasks and work with other departments; serve as a departmental role model or mentor; assign and ensure work tasks are completed on time and that they meet appropriate quality standards. Report work related accidents, or other injuries immediately upon occurrence to manager/supervisor.
Follow all company policies and procedures; ensure uniform and personal appearance are clean and professional; maintain confidentiality of proprietary information; protect company assets. Speak with others using clear and professional language; prepare and review written documents accurately and completely; answer telephones using appropriate etiquette. Develop and maintain positive working relationships with others; support team to reach common goals; listen and respond appropriately to the concerns of other employees. Move, lift, carry, push, pull, and place objects weighing less than or equal to 10 pounds without assistance. Perform other reasonable job duties as requested by Supervisors.
Marriott International is an equal opportunity employer. We believe in hiring a diverse workforce and sustaining an inclusive, people-first culture. We are committed to non-discrimination on any protected basis, such as disability and veteran status, or any other basis covered under applicable law. At Courtyard, we're passionate about better serving the needs of travelers everywhere. It's what inspired us to create the first hotel designed specifically for business travelers, and it's why the Courtyard experience today empowers our guests, no matter the purpose of their trip.
We're looking for achievers who are passionate about providing a guest experience that goes above and beyond, enjoy being part of a small yet ambitious team, and love learning how to always improve – all while having fun. In joining Courtyard, you join a portfolio of brands with Marriott International. Be where you can do your best work, begin your purpose, belong to an amazing global team, and become the best version of you.
---
How to Apply(Marriott International)
To apply for this position, please follow the instructions below:
Resume/CV Submission:
– Prepare an updated copy of your resume or curriculum vitae (CV)
that highlights your relevant experience, skills, and qualifications.
– Ensure that your contact information, including your full name, email
address, and phone number, is included.
– Highlight how your experience and qualifications align with the job
requirements and why you believe you are a suitable candidate.
Additional Documents:

(if required)
"Check below if the post required additional documents"
– If applicable, include any additional supporting documents such as
certifications, licenses, or transcripts that are relevant to the
position.
Application Submission:
Choose one of the following methods to submit your application:
– Email: Send an email to the mentioned email address with the
subject line. Attach your resume, and any additional
documents as separate PDF or Word files.
– Online Application Portal: Visit provided website and navigate to the
Careers or Jobs section. Follow the instructions to create an
account or log in if you already have one. Complete the online
application form and upload your resume, and any additional
documents as specified.
Application Deadline:
– Ensure that your application is submitted before the specified
deadline. Late applications may not be considered.
TO APPLY for this particular job post:
Marriott International
Send CV or Mail to: Marriott International Now Hiring Accounts Payable Supervisor Marriott International is now hiring for an Accounts Payable Supervisor!!
Note: Make sure to use the contact number for sending job applications through the mentioned contact medium. Avoiding so may lead to application rejection. 
---
Related Jobs:
---
Disclaimer:
This Website is only for Service purposes. Not Related to any Consulting.
---
Related Keywords
#thendral Entertainment #Jobs Today #Job News #Vacancy #Job Opportunities #Apply Now #Apply Online #Job Openings #Top Companies #Latest Jobs #Explore Jobs #Government Jobs #Govt Jobs #Urgent Hiring #Job offers #Job Portal #career #Overseas Jobs #Abroad jobs #Jobs Abroad #career opportunity #Fresher Jobs #Overseas Recruitment #Job Post #Job Description #employment #Work from Home #Employee search #Job Search #Hiring #Required #Announces #New Job #Jobs for Experienced #Worldwide #Employee Required #Marriott International
---
Follow Us on: