An architect Requirement Announcing Top Vacancies In Kuwait 2023
We are thrilled to announce an array of exciting architectural opportunities in Kuwait for the year 2023. If you are an innovative and skilled architect seeking new challenges and professional growth, this is your chance to make a significant impact in the dynamic landscape of Kuwait's construction industry.
---
Designation: architect
Location: Kuwait
How to Apply: contact:99148373
Qualification:  Degree in architecture
Eligibility Criteria: experience of not less than 5 years, accreditation from the Kuwaiti Society of Engineers, accreditation from the municipality, transferable residence
---
An architect
Kuwait, a country known for its modern and ambitious architectural projects, is currently experiencing a surge in development, creating numerous vacancies for talented architects like you. From groundbreaking commercial structures to luxurious residential complexes, Kuwait offers a diverse range of projects that will push your creative boundaries and contribute to the country's urban transformation.
---
Job Description(An architect)
An architect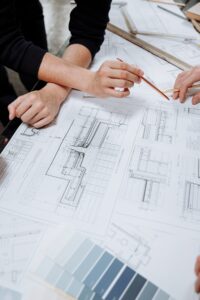 Kuwait's construction industry is booming, presenting a wealth of opportunities for talented an architect like you to showcase your skills and contribute to the nation's rapid development. In 2023, Kuwait is set to witness an unprecedented surge in architectural projects, making it an ideal time for you to be part of this thriving sector.
Kuwait, known for its modern and visionary approach to architecture, is constantly pushing the boundaries of innovation and design. The country's commitment to ambitious construction projects has garnered global attention and offers architects a remarkable platform to create iconic structures that blend cutting-edge technology, sustainability, and cultural heritage.
As an architect in Kuwait, you will have the chance to work on diverse projects across various sectors. From designing state-of-the-art commercial complexes and awe-inspiring residential towers to crafting sustainable urban spaces and cultural landmarks, the opportunities are boundless. Kuwait's construction industry embraces bold ideas, offering architects the creative freedom to shape the urban fabric and leave a lasting impact on the cityscape.
Joining an architect  community in Kuwait means collaborating with renowned firms and industry experts, fostering professional growth and networking opportunities. You'll work alongside talented individuals who share your passion for design excellence, ensuring a stimulating and collaborative work environment that will fuel your creativity.
Beyond professional growth, Kuwait offers a high quality of life and a rich cultural experience. The country boasts a vibrant arts scene, world-class infrastructure, and a cosmopolitan lifestyle that appeals to individuals from all walks of life. Whether you seek a bustling urban setting or serene coastal landscapes, Kuwait provides a harmonious blend of tradition and modernity, offering a rewarding and fulfilling personal life outside of work.
Don't miss this chance to be part of Kuwait's architectural renaissance in 2023. Join the ranks of visionary architects who are transforming the nation's skyline and contributing to its prosperous future. Explore the plethora of vacancies available, each presenting a unique opportunity to make your mark on Kuwait's architectural landscape.
Take the leap and embark on a professional journey that promises growth, innovation, and personal fulfillment. Kuwait awaits your talent and expertise as it paves the way for groundbreaking architectural achievements in 2023. Apply now and become an integral part of Kuwait's thriving construction industry!
Requirements(An architect):experience of not less than 5 years, accreditation from the Kuwaiti Society of Engineers, accreditation from the municipality, transferable residence
---
How to Apply(An architect)
To apply for this position, please follow the instructions below:
Resume/CV Submission:
– Prepare an updated copy of your resume or curriculum vitae (CV)
that highlights your relevant experience, skills, and qualifications.
– Ensure that your contact information, including your full name, email
address, and phone number, is included.
– Highlight how your experience and qualifications align with the job
requirements and why you believe you are a suitable candidate.
Additional Documents:

(if required)
"Check below if the post required additional documents"
– If applicable, include any additional supporting documents such as
certifications, licenses, or transcripts that are relevant to the
position.
Application Submission:
Choose one of the following methods to submit your application:
– Email: Send an email to the mentioned email address with the
subject line. Attach your resume, and any additional
documents as separate PDF or Word files.
– Online Application Portal: Visit provided website and navigate to the
Careers or Jobs section. Follow the instructions to create an
account or log in if you already have one. Complete the online
application form and upload your resume, and any additional
documents as specified.
Application Deadline:
– Ensure that your application is submitted before the specified
deadline. Late applications may not be considered.
TO APPLY for this particular job post:
An architect
Contact Number: :99148373
Note: Make sure to use the contact number for sending job applications through the mentioned contact medium. Avoiding so may lead to application rejection. 
---
Related Jobs:
---
Disclaimer:
This Website is only for Service purposes. Not Related to any Consulting.
---
Related Keywords
#thendral Entertainment #Jobs Today #Job News #Vacancy #Job Opportunities #Apply Now #Apply Online #Job Openings #Top Companies #Latest Jobs #Explore Jobs #Government Jobs #Govt Jobs #Urgent Hiring #Job offers #Job Portal #career #Overseas Jobs #Abroad jobs #Jobs Abroad #career opportunity #Fresher Jobs #Overseas Recruitment #Job Post #Job Description #employment #Work from Home #Employee search #Job Search #Hiring #Required #Announces #New Job #Jobs for Experienced #Worldwide #Employee Required #An architect
---
Follow Us on: