ALPHA KIDS GYM Announcing Top Vacanies In Kuwait 2023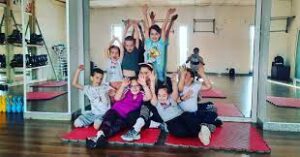 Are you passionate about working with children and promoting their physical well-being? Look no further! ALPHA KIDS GYM, a renowned establishment in Kuwait, is thrilled to announce its top vacancies for 2023. This is an incredible opportunity for individuals who are dedicated to fostering children's growth, health, and happiness.
ALPHA KIDS GYM is known for its commitment to providing a stimulating and safe environment where children can engage in fun and developmentally-appropriate physical activities. As a part of their team, you will have the chance to make a positive impact on the lives of young ones, helping them build confidence, enhance their motor skills, and cultivate a love for fitness.
---
Name of the Company:  Alpha kids gym
Designation: Fitness trainers and trainers
How to Apply: hr@alphakidsgym.com
Phone No: 60995630
Qualification: Experience in training children
Eligibility Criteria: Full-time required,Transferable Iqama
---
ALPHA KIDS GYM
---
Job Description (ALPHA KIDS GYM)
Fitness trainers and trainers
Are you passionate about fitness and dedicated to helping others achieve their health goals? ALPHA KIDS GYM in Kuwait is currently seeking enthusiastic fitness trainers and coaches to join their team in 2023.
As a fitness trainer or coach at ALPHA KIDS GYM, you will have the opportunity to work with children and guide them towards a healthier lifestyle. You will design and implement engaging and age-appropriate fitness programs, incorporating various exercises and activities to promote strength, coordination, flexibility, and overall wellness.
This is an exciting chance to make a positive impact on young lives, fostering a love for fitness and instilling healthy habits from an early age. ALPHA KIDS GYM provides a supportive and dynamic environment where you can bring your expertise and creativity to create fun and effective workout routines.
If you have a background in fitness training, physical education, or a related field, along with a genuine passion for working with children, this is the perfect opportunity for you. Join ALPHA KIDS GYM and be part of a team that is dedicated to promoting the well-being and development of children through engaging fitness programs.
Stay tuned for the official job postings, which will outline the qualifications, responsibilities, and application process in detail. Showcase your experience, certifications, and your ability to connect with and motivate children in your application. ALPHA KIDS GYM is committed to your professional growth and will provide resources and opportunities for continuous learning and development.
Embark on a rewarding journey as a fitness trainer or coach, shaping the lives of children and helping them build a foundation of lifelong health and wellness. Join ALPHA KIDS GYM in Kuwait and make a difference one workout at a time. Your fitness career awaits!
---
How to Apply (ALPHA KIDS GYM)
To apply for this position, please follow the instructions below:
Resume/CV Submission:
– Prepare an updated copy of your resume or curriculum vitae (CV)
that highlights your relevant experience, skills, and qualifications.
– Ensure that your contact information, including your full name, email
address, and phone number, is included.
– Highlight how your experience and qualifications align with the job
requirements and why you believe you are a suitable candidate.
Additional Documents:

(if required)
"Check below if the post required additional documents"
– If applicable, include any additional supporting documents such as
certifications, licenses, or transcripts that are relevant to the
position.
Application Submission:
Choose one of the following methods to submit your application:
– Email: Send an email to the mentioned email address with the
subject line. Attach your resume, and any additional
documents as separate PDF or Word files.
– Online Application Portal: Visit provided website and navigate to the
Careers or Jobs section. Follow the instructions to create an
account or log in if you already have one. Complete the online
application form and upload your resume, and any additional
documents as specified.
Application Deadline:
– Ensure that your application is submitted before the specified
deadline. Late applications may not be considered.
TO APPLY for this particular job post:
ALPHA KIDS GYM
Send CV or Mail to: hr@alphakidsgym.com
Contact Number: 60995630
Note: Make sure to use the contact number for sending job applications through the mentioned contact medium. Avoiding so may lead to application rejection. 
---
Related Jobs:
---
Disclaimer:
This Website is only for Service purposes. Not Related to any Consulting.
---
Related Keywords
#thendral Entertainment #Jobs Today #Job News #Vacancy #Job Opportunities #Apply Now #Apply Online #Job Openings #Top Companies #Latest Jobs #Explore Jobs #Government Jobs #Govt Jobs #Urgent Hiring #Job offers #Job Portal #career #Overseas Jobs #Abroad jobs #Jobs Abroad #career opportunity #Fresher Jobs #Overseas Recruitment #Job Post #Job Description #employment #Work from Home #Employee search #Job Search #Hiring #Required #Announces #New Job #Jobs for Experienced #Worldwide #Employee Required #Alpha kids gym #Fitness trainers and trainers
---
Follow Us on: